Since 1926, Nugget Markets has been committed to supporting local non-profits and causes in our community through donations, sponsorships, and participation in local and regional events. We also participate in Scrip and eScrip programs in the Sacramento and Marin County areas. To direct our involvement and giving, we focus on supporting non-profits and educational institutions that are located in our immediate communities. The primary causes that we focus on are:
Education and youth
Health, wellness and nutrition education
Elder care and support of those in need
Sustainability and agricultural preservation
Public safety (law enforcement and fire)
To request a donation or sponsorship/participation in an event, please download and complete the form, below. Completed form should be emailed to community@nuggetmarket.com, along with a written description of your organization's mission, and an explanation of your event on your organization's letterhead (if applicable). If your organization supports a community within five miles of a specific store, you may instead deliver your request to your local store director.
Please submit all requests at least 4 to 6 weeks prior to your event, and please note that only completed forms will be reviewed. Due to the high volume of requests, we are unable to support:
Individuals or teams
Political candidates or causes
For-profit and third-party organizations—we give directly to non-profits
We are excited to partner with you in supporting non-profits and educational organizations in our community. We offer two Scrip Programs, based on where you live and shop:
Sacramento Valley Stores
Learn more about our Scrip program:
Marin County Stores
Learn more about our eScrip program:
---
Store Tours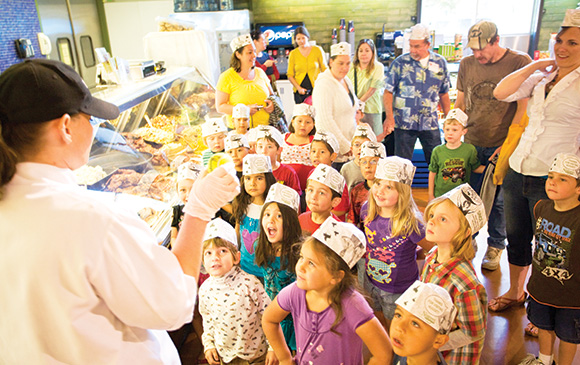 We love connecting with local schools and youth organizations through store tours, which are educational, interactive, and also free of charge! Tours include a visit to every department in our store, where kids get to see and learn behind-the-scenes secrets, like how our bakers make our artisan breads, how our in-house chefs prepare our pizzas, and how our butchers handcraft our sausage.
For more information or to schedule a tour, please contact your local Nugget Markets location.
Upcoming Community Events
From to

Location: The Center

Filed under: community

Begins at

Location: Dowtown Tiburon

Filed under: community

Begins at

Location: Heritage Plaza and Main Street, Historic Downtown Woodland

Filed under: community
Neighborhood news and community involvement
Our terrific team volunteered with Sacramento Habitat for Humanity last weekend on Neal Road in Sacramento, where four homes are currently under construction. Between the different houses, volunteers did everything from framing and painting to landscaping and interior work.

They say it's better to give than to receive, and now's your chance to experience it firsthand! This Thursday, May 4, the Big Day of Giving will kick off its 4th annual celebration of philanthropy in the Sacramento region. This 24-hour giving challenge encourages people who call the region home to give where they live and support local nonprofits that enrich our area and community.

What java jives best with your favorite Girl Scout Cookies? We're glad you asked! In celebration of everyone's favorite seasonal sweets, our coffee bar pros have put together four fantastic cookie and coffee pairings you're sure to enjoy.