Recipe Archive Nugget Markets Signature Recipes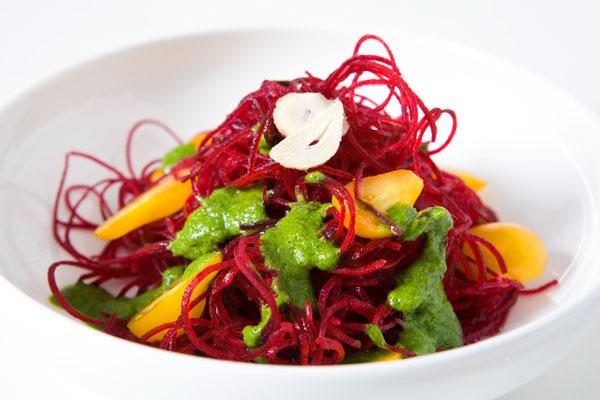 Prep time:

20 minutes, plus 13 hours inactive time

Cook time:

12-14 hours in dehydrator
Yield:

1 cup

Difficulty:

3 out of 5
This cheese substitute has a tangy, salty flavor and can be used in place of aged hard cheeses like Parmesan, Grana Padana or Pecorino Romano. Try it in recipes like Beet Capellini with Arugula-Basil Emulsion.
Ingredients
1 cup pine nuts
½ cup plus 1 teaspoon rejuvelac
1 tablespoon lemon juice
1 tablespoon nutritional yeast
½ teaspoon Himalayan rock salt
Preparation
Soak pine nuts in filtered water for 1 hour covered, then drain.
Blend soaked and drained pine nuts in a blender or food processor. Add rejuvelac, lemon juice, yeast and salt, and process until smooth. Place in a bowl and let rest covered at room temperature for 12 hours or overnight.
After cheese mixture has "aged," use an offset spatula to spread a thin layer onto a nonstick sheet for the dehydrator tray. Dry for 12-14 hours at 105°F. When the cheese is done, it will break apart easily like a thin cracker.