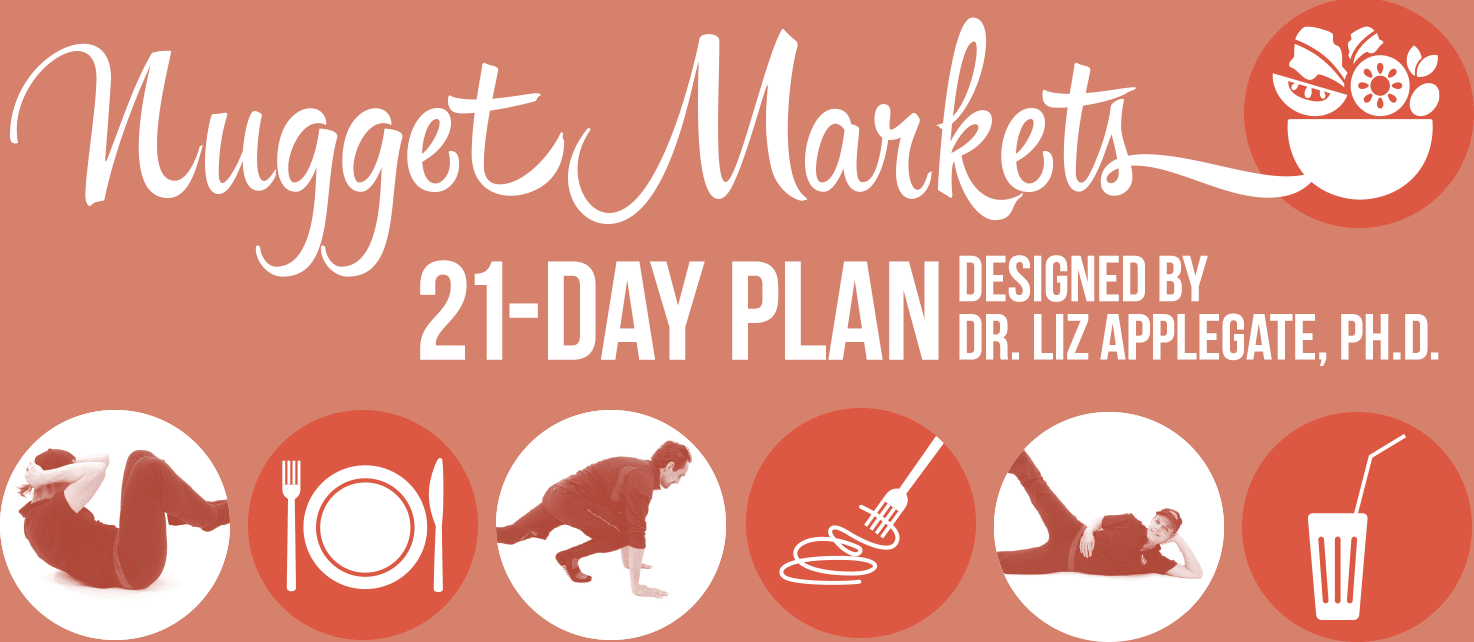 Nugget Markets
21—Day Plan
Designed by Dr. Liz Applegate, PH.D.
Instead of starving yourself and biting off more than you can chew at the gym, embark on a different journey, one that changes your lifestyle and health for good. This straightforward three–week eating and fitness program, designed with busy people in mind, is more about making good–for–your–body decisions rather than punishing you with cutting calories and tough–to–do workouts.
Here's How This Plan Works
For 21 days—typically the amount of time it takes to make new eating and exercise practices part of your daily routine—follow along with the menu and exercise plans* designed with key basic principles in mind that optimize your health and energy levels.
Meal Plan
Eat breakfast! A solid morning meal sets the stage for a healthy eating day and better weight control.
Eat quality protein at every meal as a weight–control aid and support for your workout
Select whole grains (brown rice, quinoa, whole wheat etc.)
Aim for at least 2½ cups veggies and 2 to 3 pieces of fruit daily
Include healthy fats from fish, nuts, and seeds (prepare foods with olive, canola or avocado oils.)
Aim for 2 to 3 servings of calcium–rich foods such as dairy or soymilk Consume a daily probiotic such as yogurt, kefir, or probiotic shot for digestive and immune support
The menu design incorporates these basics while using everyday nutrient–dense basic foods. Create a shopping list for the week and note that making extra one day (brown rice, slow–cooked pork and veggies) will help you save time by using leftovers and keeping you on track later in the week. The menu plan supplies approximately 1800 to 2000 daily calories. Adjust portions to meet your energy needs and weight control goals. Also switch out foods that pose an allergy or intolerance concern (soy for dairy or brown rice noodles for wheat pasta).
Exercise Plan
Daily exercise that conditions your vascular system for better fitness as well as building key muscle groups for more strength is vital for a more functional and healthier life. For example, building core strength (body's midsection–abdomen region) makes simple activities easier, such as carrying boxes, and can also lower the risk of suffering from a back injury on days you overdo. Like your food choices, variety is key!
Try different types of aerobic exercise and switch things up when building stronger muscles.
Each day (5 to 7 times per week) include an aerobic– type activity and a "DAH" (Do At Home) strength training "mini–circuit."
Aim for 30 to 60 minutes daily of moderate to vigorous activity (fast walking, jogging, bike riding, swimming, dancing, basketball—anything continuous that boosts your heart rate.) Choose activities that you enjoy and if you don't have time for 30 minutes straight, 10 minutes here and there of vigorous activity throughout the day will count!
Include 3 to 5 weekly strength building "DAH" exercises sessions that help shape and tone major muscle groups while building functional strength.
Adjust what you need according to your current fitness and strength level, which may dictate more or less time spent doing walking/running and number of repetitions in your mini circuit.
Start my 21–day program knowing that your adjustment to healthier eating and routine exercise takes time. Keep track of how you feel, what works (and what doesn't) for you. Send a facebook post or tweet—I would love to hear about your successes (and challenges!)